The Coronavirus Covid-19 has led to unprecedented levels of panic buying and supermarkets running out of food. At the same time government recommendations of social distancing have hit the food and drink market hard. All this means that we have a warehouse full of food and customers, like you, who would like to buy it.
Below is a list of products, along with pack size and prices we think you might be interested in. We have over 2500 products so if there's something else you need please ask a member of our telesales team.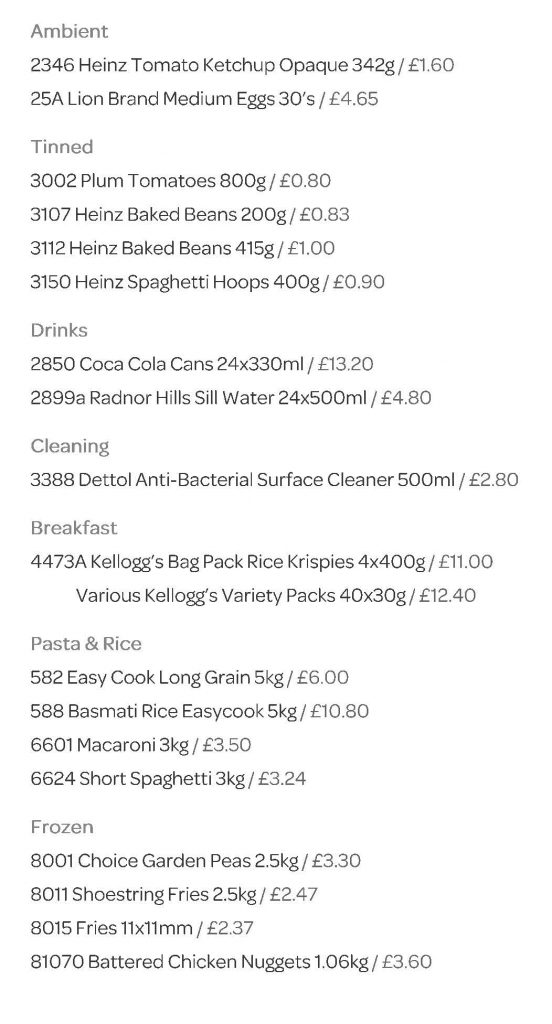 Please call 020 8985 9000 to place an order.
In order to remain operational whilst reducing risk we have only retained a skeleton staff force on site. We therefore can't complete orders on the spot for unannounced customers. You must place your order over the phone in advance.
All orders under £100 need to be collected from either: 28-30 Lee Conservancy Road, Hackney, E9 5HW or Units 1-3 Caxton Gate, Caxton Way, Stevenage, SG1 2UR.
Orders over £100 are eligible for delivery so why not team up with friends and neighbours to create one order. Please note we can only deliver to one address per order). We regret that we can only accept debit card or exact cash payments at this time.
Thank you in advance for your custom and support of this small family run company. We wish you all the best of health.